1 Marzo 2014
20 Reasons to Fall in Love with Naples

Tweet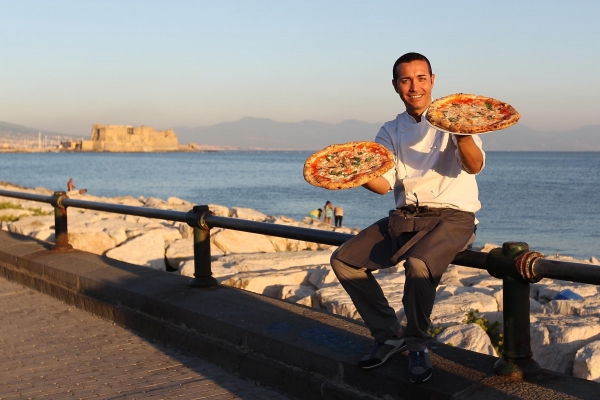 Few Italian cities cause as many arguments as Naples. Travelers either see it as chaotic and unwelcoming or else passionately believe that the city is one of Italy's most vibrant and unique. Almost no travelers stand in the middle. Is the dividing line drawn between those looking for a quintessentially romantic Italian experience versus those seeking an adventure? Perhaps, but I believe that Naples offers something for every type of traveler, and here are twenty reasons why.
1. The Energy
Naples has a vibrant energy, a combination of recklessness and poise, unlike any other city in Italy. Scooters speed down tiny alleyways filled with people, and yet, somehow, no one moves and the scooters still get through at top speeds. Moreover, even though traffic does not stop for pedestrians, locals don't flinch when they cross the street. They walk straight into traffic, and, somehow, emerge without a scratch. Adjusting to the local tempo is the name of the game in Naples, and, once you succeed, you may find the feeling of accomplishment magnificent. You have become a little more local; a little more Neapolitan.
2. The People
In many ways, Neapolitans remind me of New Yorkers. They always appear incredibly busy, but, if you need directions, they'll practically take you by the hand to show you where to go. Neapolitans like Americans in general, and it's worth saying hello and trying to strike up a conversation. Most Neapolitans are more than happy to learn about where you come from and to share a little about their part of the world.
3. The Neighborhoods
With over 3 million residents, Naples has many neighborhoods, and most offer strikingly different experiences. Home to numerous sights, the Centro Storico is easy to find, but how about Vomero? Vomero is an insider's neighborhood: Located up on the cliffs behind Naples, it is often missed by travelers. It is one of Naples's most prosperous areas and supplies elegant restaurants and brand-name shopping. To step into another world, just hop on the Central Funicular.
In the western part of the city, Posillipo is another often overlooked neighborhood. For those looking for luxury, stay and dine here. Filled with mansions and fine dining restaurants, Posillipo offers a contrast to other parts of Naples.
Speaking of which, the most dangerous neighborhood in Naples is around the main train station, an area that travelers should avoid after 10pm. That said, during the day, this area has some of Naples's best markets, shopping, historic sights, and culinary offerings.
4. Pizza
It's no joke: Pizza is mind-blowingly good in Naples and one of the best reasons to fall in love with Naples. Cooked in ancient wood-fire ovens, each pizza is about 10 inches in diameter, andpizzaioli, or professional pizza chefs, cook the pizzas for a minute or less; this leaves the center soupy and the edges crisp. It's a fun time learning how to make them in a Naples cooking class. Believe it or not, locals order a pizza per person, and they absolutely demolish them. There's no wrong way to eat a Neapolitan pizza (although Julia Roberts, in the movie version of Eat, Pray, Love, in which a Neapolitan pizza is served in American-style slices, comes close), and the locals have developed some pretty fascinating techniques that involve rolling, folding, and more. Some of my favorite pizzerias in Naples are Antica Pizzeria Da Michele, Pizzeria Sorbillo, Pizzeria Di Matteo, Pizzeria Lombardi, and one of the originators, Pizzeria Brandi. Also, don't miss pizza fritta, or deep-fried pizza.
5. Art Museums
From Renaissance-period to Neapolitan-School, the artworks in Naples show off the talents of Europe's greatest artists, and a tour of the Museo Nazionale di Capodimonte should be at the top of any itinerary. The massive museum and palace is located in the beautiful Capodimonte Park, and a visit includes a relaxing stroll on the impressive grounds with views overlooking the city. Some of the Farnese Collection can be found here, as well as famous works by Raphael, Titian, Botticelli, Brueghel, and others from the 1300s to the present. To see what is happening in the Naples art scene right now, visit Museo d'Arte Contemporanea Donna Regina (M.A.D.RE), a modern art museum that has the latest works by local and international greats alike.
6. Castles
Having been controlled by the Normans, the house of Anjou, the Aragonese, the Spanish Hapsburgs, the Viennese Hapsburgs, and many others, Naples displays numerous architectural feats, and its castles are its best. They are Castel dell'Ovo (Castle of the Egg), a castle located on an island connected to downtown Naples via a pedestrian bridge; Castel Nuovo (New Castle), which has massive turrets and other formidable defense structures; and Castel Sant'Elmo, a castle that soars above the city and offers some of the best views of the area. Entrance to Castel dell'Ovo is free, too.
7. Going Underground
Between the ancient underground layers of the city and the crypts beneath churches, Naples has many historic underground areas that are worth visiting. At the fore, Catacombe di San Gennarocombines walls of graves with walls painted with paleo-Christian artworks. Naples's wealthiest residents were buried there for a period of roughly 800 years! In addition, networks of tunnels run beneath the entire city, and this underground area is almost a second city unto itself. Taking a tour of the underground is a great way to learn about and actually see and touch the history Naples.
8. Pompeii & Herculaneum Ercolano
One of the best day trips anywhere, a visit to Pompeii and/or Herculaneum Ercolano unearths the ancient past. Entire homes from 79AD stand nearly intact, and you'll never forget the incredible sight of 1900-year-old, hand-painted wallpaper in near-perfect condition. Play house; pick rosemary; enjoy pornographic images nearly 2000 years old; or take a somber moment with the plaster casts of those who died beneath Mt. Vesuviuos's mix of lava and ash. By train, Pompeii and Herculaneum are about 40 minutes from Naples.
9. Naples National Archeological Museum (Museo Archeologico Nazionale di Napoli)
As stunning as Pompeii and Herculaneum are, they only tell half of the story; the National Archeological Museum in downtown Naples tells the other half. Here, the artifacts from the ruins spread out, from dinnerware to statues. Many of Pompeii's best-preserved and awesome buildings have been transported to the museum and now stand fully reconstructed. Additionally, the museum is home to the majority of the Farnese Collection, which includes huge marble statues from Greek and Roman antiquity. Personally, I recommend visiting Pompeii first to get the most out of the Naples National Archeological Museum.
10. Seafront Promenade
Comprising the seafront of the Chiaia neighborhood, this promenade is a fantastic way to get your bearings in Naples. Predominantly following the Via Caracciolo street, the promenade connects Piazza Reale in the east with the Posillipo neighborhood in the west. Along the way, you'll see Palazzo Reale, Castel Nuovo, picturesque marinas, and many iconic hotels, shops, stalls, and restaurants. To end your walk, stop at the seaside rocks in from of the Villa Comunale park: This is where many locals sunbathe and sit and enjoy the waves.
11. Mt. Vesuvius
This historically terrifying volcano is one of the last active volcanoes in Europe, but things have been pretty quiet since 1944. For nature lovers, Vesuvius National Park offers hiking trails that traverse pine forests, vineyards, and more, and you can also stare down into the crater or catch views up and down the Italian coastline. About eight miles from Naples, Mt. Vesuvius can be reached using public transportation, and a bus leaves directly from the central train station. Alternatively, take the Circumvesuviana railway to Herculaneum; there, to get to the crater, you can either take a local bus or embark on a view-packed 3-hour hike.
12. Phlegrean Fields (Campi Flegrei)
Time to visit the god of fire! The Phlegrean Fields area is a huge park that contains underwater ruins, crater lakes, the remains of Roman temples and amphitheaters, museums, and the famous Solfatara crater. Holding great historical importance, the Solfatara crater, which regularly releases plumes of sulfur gas, was once thought the home of Vulcan, the god of fire. Today, you can tour the area's numerous sights as well as take in the natural beauty. The nearby Parco Archeologico del Pausilypon is also worth a visit: You can tour underwater Roman ruins (Gaiola Underwater Park) as well as the one-time villa of Augustus. On your way to the villa, you walk through an 842-yard tunnel, too! The Phlegrean Fields are just a 20-minute bus ride from Naples. You could dedicate two full days to the area without running out of things to see and do.
13. Churches
The churches in Naples hide in plain sight. Often sandwiched between every-day apartment buildings, these stunning works of art and architecture are easy to miss. Don't! Each has its own attractions. My favorites are Chiesa del Gesú Nuovo, a massive church with a striking ashlar façade, and Cappella Sansevero, which is home to the famous statue, The Veiled Christ, as well as the bizarre creations by alchemist Raimondo de Sangro: two reproductions of eviscerated human bodies.
14. Espresso & Pastries
Italy's coffee culture is as rich as its espressos, and Naples, in my mind, leads the pack. Local baristas pour excellently textured shots of espresso that are creamier than most. A ton of iconic pastries are available to pair with your caffeine, and some of the most famous are biscotti all'amarena, a larger and fresher version of your typical biscotti; sfogliatelle, which are cream-filled horns of layered pastry; and baba au rhum, a cake-like pastry saturated in rum. For a great coffee, visit Il Vero Bar del Professore, and, for great pastries, check out Scaturchio.
15. Tribunali Street (Via Tribunali)
Naples's mainline, this famous street is everything Neapolitan all in one place: historic churches, excellent pizzerias, cafes, and restaurants, quaint piazzas, artisanal shops, and yummy gelato. Uniquely, locals still love Via Tribunali, so watch out for scooters carrying entire families (as well as their pets!) flying past.
16. A Day Trip to Capri, Ischia, or Procida
Capri, Ischia, and Procida—three islands that have supplied luxurious R&R for over two millennia. Volcanic rock formations and cliffs buttress beautiful beaches, and little fishing towns serve the freshest fruits of the sea. All three islands can be visited on day trips from Naples by taking a one-hour ferry ride, a journey that provides an entirely new perspective of Naples. Capri offers the iridescent Blue Grotto cave and the one-time palace of Emperor Tiberius, Villa Jovis; Ischia is famous for its thermal spas and natural beauty; and Procida is the most tranquil. Watch out for the crowds on Capri and Ischia at peak season (June-August).
17. Spas
Thanks to the copious volcanic activity around Naples, thermal spas nestled inside of historic areas are everywhere. In the Phlegean Fields, Terme Stufe di Nerone and Terme di Agnano Agnano are two of the most picturesque, and you can feel like a Roman while basking in naturally heated baths and saunas.
18. Fontanelle Cemetery (Il Cimitero delle Fontanelle)
After being closed for many years for renovations, this sight is one of Italy's creepiest collections of human bones. You won't find the well-preserved bodies for which Rome and Palermo's crypts are famous, but the frightful display of skulls and bones is massive. Located outside of the city, the cemetery is hard to find, so take a taxi. Without a guide, you may be standing alone among the skulls… Did you hear that? What? Who said that?
19. Street Food
As if Naples hasn't supplied you with enough reasons to eat, it also offers varied and scrumptious street food. Each vendor supplies a case of unique items, most of which are deep-fried. Arancini are deep-friend rice balls stuffed with meat or cheese; panini ripieni are stuffed and baked panini; and calzone fritto are deep-fried calzones. Other nibbles include deep-fried zucchini flowers, fingers of potatoes, and delicate slices of eggplant—all of which cost around 40 cents a piece.
20. Teatro di San Carlo
With extraordinary acoustics, an illustrious past, and a stunning restoration in 2008, Teatro di San Carlo stands out as one of the most important and beautiful opera theaters in Europe. Naples was once the center of the world for opera, and you can still experience leading singers pouring out their hearts in Italian. Make sure to book your tickets before arriving; a month or more is ideal. No tickets? You can still visit, and just seeing the inside of the magnificent theater can be a moving experience.
-Mattie Bamman (Viator travel blog)
on http://travelblog.viator.com/reasons-to-fall-in-love-with-naples/

Are you gonna visit Naples and you need an extraordinary tour?
Choose a Vespa Tour on www.napolinvespa.it

Tweet
Torna all'elenco
Commenti
Torna all'elenco